Nº1 jetting App for all Rotax MAX classes.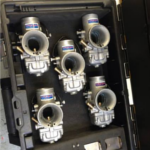 Jet, needle clip and plug type for DD2, Senior, Junior, Mini and Micro MAX karting engines.
If you are wondering if our Apps work, we can only say that thousands of drivers all over the world are using our software every weekend. But... may be they prefer to keep it in secret ;)
The purpose of this tool is to recommend jet, needle clip position and spark plug reference, taking in consideration the weather conditions on the racetrack for different engine/carburetor configurations.
+ info